In the field of education, Professor Dr. Prarthita Biswas is a name that has been making waves in India and beyond. Her incredible accomplishments in the field of teacher education, research and activism have earned her accolades and recognition both nationally and internationally.
Professor Dr. Prarthita Biswas' contribution to the field of education spans more than 18 years, during which she has served in numerous academic and administrative positions in West Bengal's top institutions of higher learning. Presently, she is serving as Professor and Ph.D. Program Co-ordinator in the Dept.of Education of Swami Vivekananda University, Barrackpore, Kolkata, India.
With her passion for education and inclusivity, Professor Dr. Prarthita Biswas has emerged as a notable author and educator, having authored more than 25 books and published over 150 papers in national and international levels, 05 Indian Patents and 02 Copyrights are also in her name.Some of her notable authored books which also earned recognition worldwide and also in New Delhi World Book Fair 2023 are "Impact Of Family Environment And Smart Phone Addiction On The Academic Achievement Of Undergraduate Students Of South Kolkata, West Bengal, India" published by Redshine Publications, United Kingdom and "Research Methods in Social Sciences "published by EZ Education, India. In recognition of her outstanding work, she has won several national and international awards, including the prestigious South Asian Scholarship Grant from the Tokyo University of Foreign Studies for her research work on Women Education.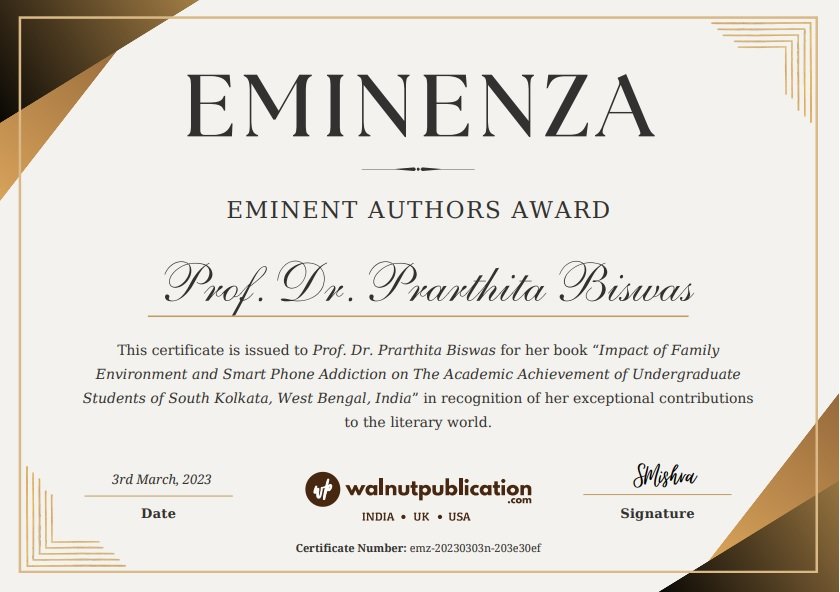 In addition to her impressive research and academic contributions, Prof. Biswas is also a NLP coach and a strong believer in lifelong learning. She is regularly invited to speak at national and international seminars, conferences, symposiums and webinars, and serves as an Editorial Board Member and reviewer of reputed journals in national and international levels. She is also the invited member of various reputed academic bodies of higher education as well as research domains.
Her commitment to inclusive education has led her to be involved in numerous research development projects with the Dept. of Special Education, Stockholm University, Universiti Utara Malaysia and South Eastern University of Sri Lanka. Furthermore, Prof. Biswas is the President, East Zone of the Council for Teachers Professional Development, India and an Academic Council Member of Rabindrik Psychotherapy Research Institute Trust (RPRIT).Both of the above are National Registered Organizations for the upliftment of academicians and scholars.
Professor Dr. Prarthita Biswas' achievements in the field of education are an inspiration to many, and her work has left a profound impact on the education landscape in India and beyond. With her unwavering commitment to education and inclusivity, she continues to inspire and motivate educators and learners alike, demonstrating that education truly has the power to transform lives.
You can connect with her at : prarthitab@gmail.com
FB profile: https://www.facebook.com/prarthita.t.biswas?mibextid=ZbWKwL